Redmi Note 7s: Xiaomi's smartphone burned, the company said 'this' reason
So far, there have been many incidents of smartphone fires. Another such incident has happened recently. Xiaomi's smartphone is on fire at this time. Although no accidents were reported in the incident, the phone was completely burnt. This is the case in Mumbai, Xiaomi's budget smartphone Redmi Note 7s suddenly caught fire. According to information received, the smartphone had a manufacturing defect, so it has caught fire. However, the company has issued a notice in this regard and they have said that the smartphone is on fire due to the customer.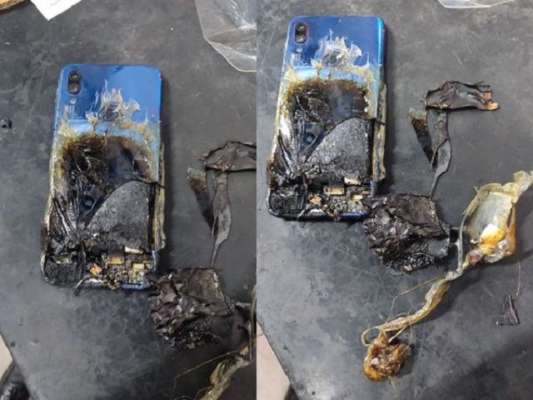 A man named Ishwar Chauhan reported the incident on Facebook. Ishwar Chauhan, who lives in Mumbai, wrote in a Facebook post that he bought the Redmi Note 7s smartphone from Flipkart in October. By November 7th, everything was starting well. On the day of the incident when the Redmi Note 7S was placed on the smartphone table, God felt something burning. When they saw the phone was burning.
Ishwar has stated in his post that the phone was not charging at the time of the incident. He said the phone was not dropped by me, nor was it charged to charging. Ishwar Chauhan contacted Xiaomi's Authorized Store. Since the phone was completely burnt, the SIM card could not be removed. The store employee then sent the phone for inspection.
Chauhan clearly stated in his post that after 3 days from the Xiaomi store it was reported that there was some battery problem. He was given an email ID after speaking with the service center. Ishwar Chauhan was very disappointed with the company's such offer sales service. "It was a good thing I was not using the phone when the incident happened, otherwise I am scared to even think about what happened," he said.
"I will call after this to be emailed to the company. After waiting for three days, the customer care executive called and said that there was no warranty on the battery, "said Ishwar Chauhan. Chauhan has posted videos and photos of the phone on social media.
According to a Times of India report, Xiamen said, 'Xiaomi has paid a lot of attention to product quality. Customers have shown confidence in the brand in the last 3 years. We are proud that our offer sale in the country has been very well received by many customers. It is our job to solve customer problems. After a thorough examination of the phone, it was clear that the incident was due to some external factors. Therefore, this type is called 'customer induced damage'.